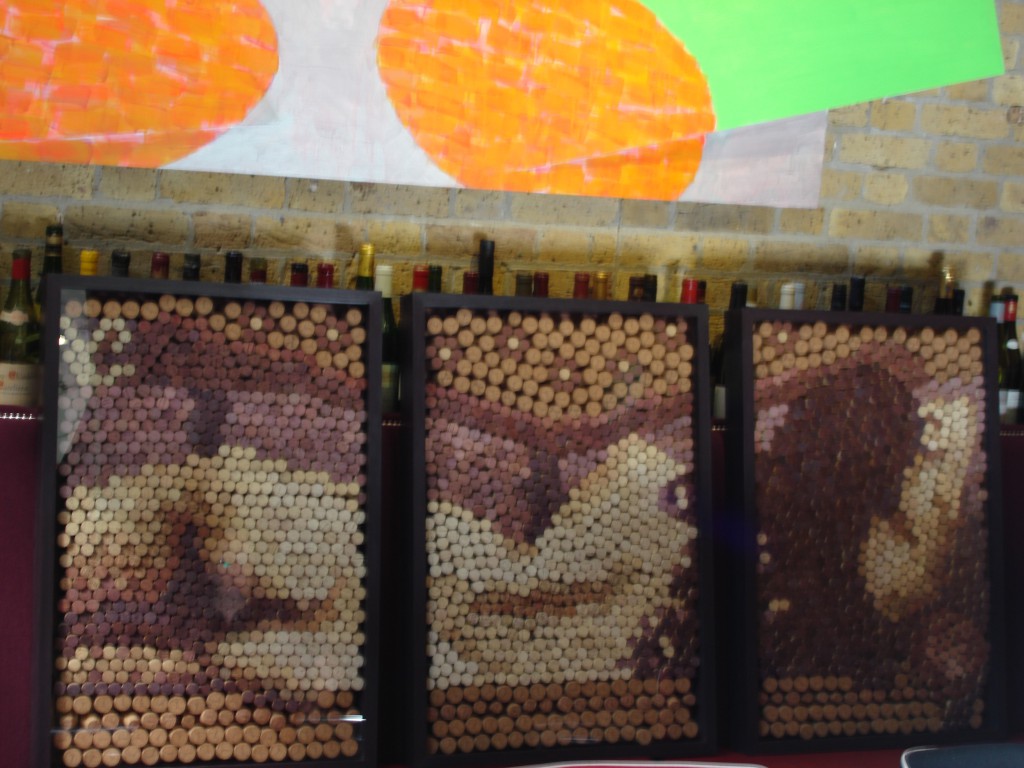 These are three frames we made recently, containing a triptych made out of various wine and champagne corks, depicting the pixelated figure of a reclining nude. They are seen here at one of the restaurants where the corks were collected. If I'm not mistaken that looks like a Richard Smith painting on the wall behind, so I'm guessing this is The Boundary in Shoreditch.
The artist is F C Engelhardt IV and when I suggested that I would like to feature his triptych on Frames of Reference he very kindly sent this statement –
The artist has a PhD in Organic Chemistry. Due to my background in chemistry, I have always been fascinated with wine – its colors, aromas, and how the hundreds of chemicals in wine work together to achieve the right taste. With regards to art I wanted to find a medium to express art which incorporates natural media. Wine corks seemed a perfect blend of the two worlds. The wine cork, which is typically discarded after a bottle is opened, through this art is instead given a second lease of life and recycled for our enjoyment. Wine corks offer a unique media that capture the essence of their parent wines and as they are natural materials they also mirror nature's imperfection. I was inspired by the works of Chuck Close and his pixelated portraits. Transferring this concept to nudes and other images with a color palate limited by the color of their base wines has proven challenging and the triptych shown has taken several thousand corks to render. The fascination is that up close the image is merely suggestive, but as the observer backs away the artwork takes advantage of the human eye's narrow focal point and the corks begin to blend together until the moment when the image is sharp and obvious.