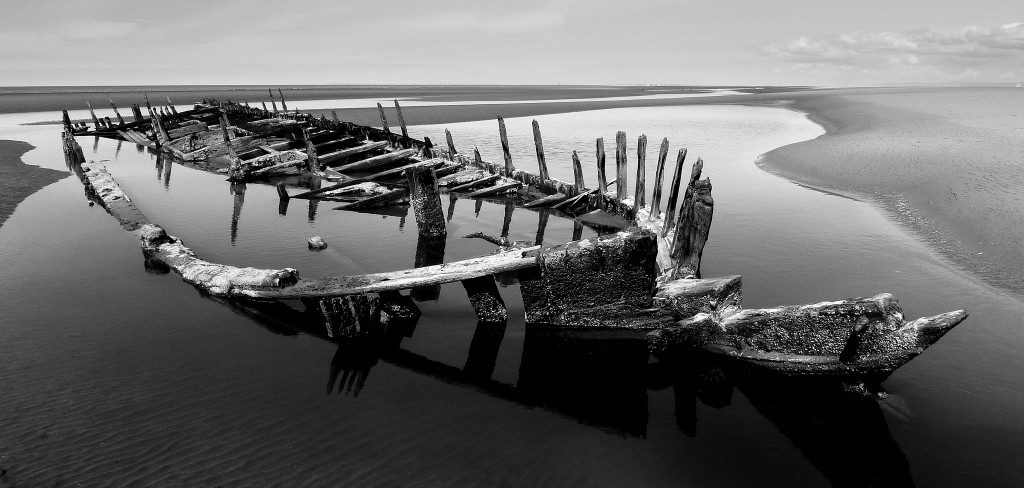 This is the preserved skeleton of The Star Of Hope emerging from the sands on Ainsdale Beach. Most of the time it is covered, occasionally wooden stumps show themselves at low tide, then once every few years the sands shift and reveal this spectacular wreck.
Jean Sprackland tells this story and many other intriguing tales in her book Strands: A Year Of Discoveries On The Beach. It appealed to me because this was my first beach. Before we ventured down to the Llyn peninsula in north Wales and long before we discovered Devon, it seemed that whenever the sun shone we would drive over to Southport and straight onto the beach at Ainsdale.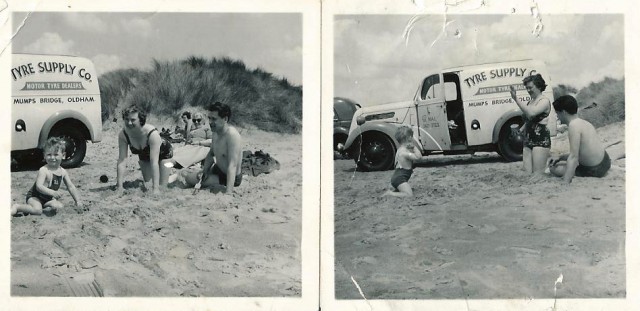 The sands were vast and hard and flat and cars were welcome. I think this was where I first sat behind the wheel on my dad's knee. In those days he worked as a tyre salesman and got to take the van home, and to the beach. Grandma was there too and Aunty Betty was behind the camera. We all squeezed into that little van. Extra seating was provided by an old leather-upholstered bus bench-seat in the back. No sign of safety-belts but plenty of travel sickness.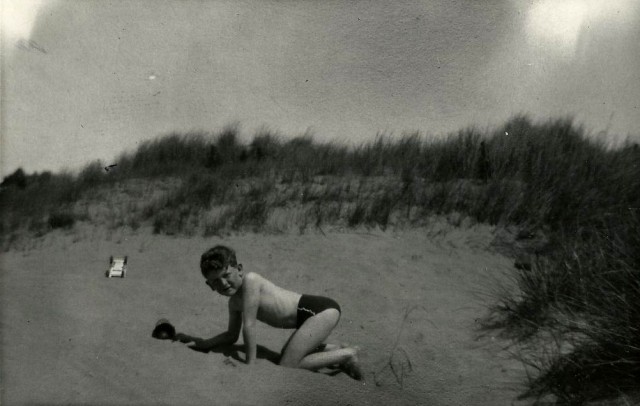 The sea always seemed miles away, running over corrugated ripples of sand, careful not to tread on any beached jellyfish, to the long shallow waves and then another mile before it was deep enough to swim, though this was before I knew how. Behind the beach were endless dunes to hide in and leap from. The soft sand seemed the perfect safety net to break any fall, though my foot still shows the scar where it was ripped by the surprisingly barbed roots of marram grass that bind the dunes together.
Jean Sprackland uses the beach as a springboard to other stories and other strands that bind her book together. One strand recalls a container ship beached at Branscombe in Devon in 2007 which was scavenged for all kinds of goods from nappies to motorbikes…a heady combination of two very British pastimes: beachcombing, and getting something for nothing. She felt this prefigured the riots of 2011, when looters ran amok in English cities. This was 'passive wrecking' – not luring ships onto the rocks, Jamaica Inn style, but a willingness to profit when someone else's misfortune provides an opportunity. How long before the looters and rioters of Tottenham and Croydon are remembered as those smugglers of Daphne du Maurier's romanticised Cornwall?